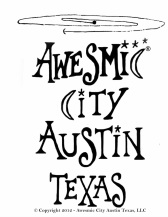 AWESMIC CITY AUSTIN TEXAS DAY!
AWESMIC CITY EXPO 2014!
August 10, 2014
PALMER EVENTS CENTER!
Promoting Austin as a model city and hub for cultivating a healthy commerce through peace building efforts of creative arts, advanced sciences, innovative education and responsible community!
Awesmic City Expo 2014 is a new description by proclamation of how Austin, Texas is a model city that through its diverse cultural community promotes peace and prosperity through the arts, sciences and education!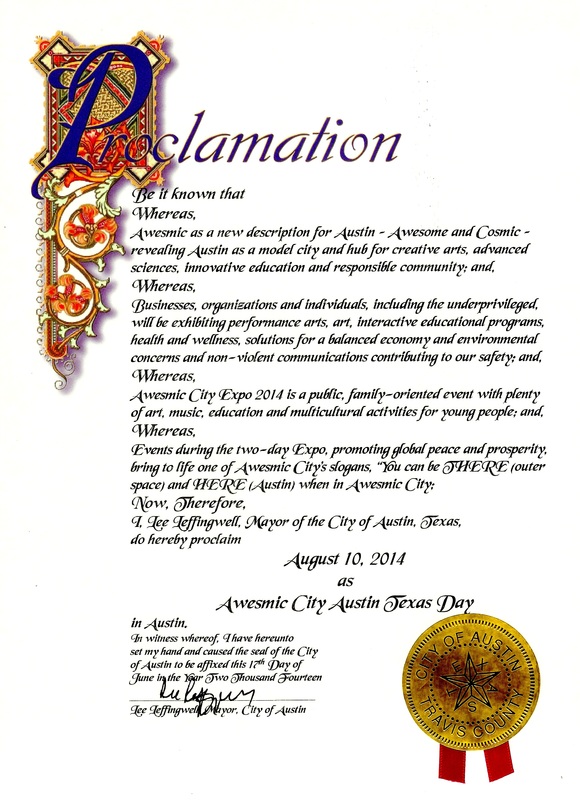 AWESMIC CITY AUSTIN TEXAS DAY!
PEASE DISTRICT PARK IN AWESMIC CITY HAPPENED 12.13.13!
FRIDAY the 13TH! PEACE WAVE CONCERT with local Music - Poetry - ART!

Featuring Poets and Musicians from Awesmic City and surrounding areas . . .

Thom the World Poet . . . host of Expressions Poetry Venue and many more! - Austin
Linda Marie Cossa . . . host of NeWorld Deli Poetry Venue - Austin
Gordon Magill . . . Musician and Poetry Performer
Louise Richardson . . . host of AwesMic City Taco Xpress Poetry Venue - Austin
Phillip Abbott . . . San Antonio Poet and Photographer Extraordinaire!
Nancy Fierstein . . . host of Thirsty Thursday Poetry Venue - Dripping Springs
Tara Khandro . . . inspirational multicultural poetry and poetry award winner - Wimberley
David Lester Young . . . Ben Franklin of Poetry
Anyah Dishon . . . host of Awesmic City Cafe - Dripping Springs
Scott Vanya . . . host for Open Mics Poetry Listing - Audio and Video Coverage - Austin



ABOUT THE Music PERFORMERS . . .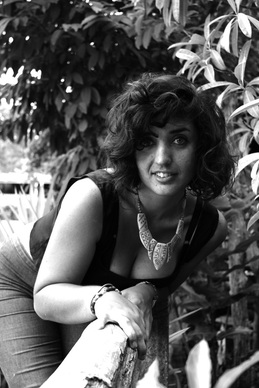 Michelle Stewart . . .
Austin
www.michellestewartmusic.com
Gypsy troubadour, Michelle Stewart, has just returned to the U.S. after 7 years of living in Vietnam and Thailand. Her songs speak of love, pain, trial, and liberation, combining a strong feminine energy, a soulful voice, and soothing, yet lively, rhythms she calls, "gypsy blues."
- Michelle was most recently invited to perform for the overseas branch of the U.S. Democratic Party, Democrats Abroad, for Barack Obama's Presidential Inauguration in Vietnam's capital in January 2013.
This past year, in December 2012, Michelle released her debut solo album, Sands of Time, written and recorded in a handmade bamboo bungalow in the mountains of northern Thailand. The album was mixed and mastered at DBS Studio, Bangkok.

During the beginning of her career abroad, Michelle's songwriting has been featured on major cable and public television networks, reaching a global audience in 5 continents. Instrumentation is primarily voice, 12-string guitar, and mandolin, though also a trained clarinetist, Michelle played all instruments on her new album, Sands of Time, combining both real and virtual instruments to achieve her sound.

Sands of Time is now available on iTunes, Amazon, CDbaby, Spotify, and more.
Free download!:
https://soundcloud.com/michellemusic/sands-of-time-exclusive
Don't forget to join Michelle's mailing list if you'd like to receive updates on new concert dates, new releases, her art and more!
For more information, write to: michellestewartmusic@gmail.com
---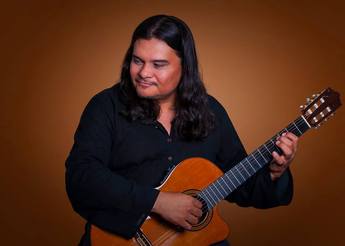 CARLOS CEDILLO - COSMIC JAGUAR!
Feeling a little cosmic wave coming on? It's probably from Cosmic Jaguar! A phenomenal musician, multicultural music and also Wisdom Keeper of the Sacred Mayan Calendar!
His first trip to Guatemala was with his parents in 2005. they visited Quirigua, Tikal, Ceibal and Cancuen. It was Dr. Calleman who suggested to him that he go on the Sacred Journey with 'Tata', Don Alejandro Cirilo Perez Oxlaj, the 13th generation Mayan Grand Elder. This was in January 2007.

There was a group of about 18 travelers with Tata, his wife Elizabeth and fellow shaman Rufino. It was on this journey at Tikal where he experienced my first Mayan Fire ceremony, also the "Mixing" divination where the shaman counts a random handful of red seeds. They also experienced a baptism at a natural water bowl in a cave and the Sacred Drink of the Maya made from seven herbs.

He attended the premier of 'The Shift of the Ages' in California later that year with his significant other.. The went on another Sacred Journey in 2009 when Tata performed a wedding ceremony for them under the San Pedro Volcano at Lake Atitlan.
Carlos has performed in San Marcos, Austin, and many other places on his journeying.
http://www.cosmicjaguar.com/classical-guitar.html
---
Claudine Meinhard . . .

Guitar player/singer songwriter from San Antonio, who started out in rock n' roll bands as a teen with youth ministries when she was 13 yrs. old. She had punk rock bands in high school but went gave up the rock n' roll scene to pursue a degree at UTSA.
After 10 yrs of not playing guitar, she began writing songs in 2012. Still finding her voice and transitioning her acoustic set into electric guitar, she continues to evolve with her art.

Former bands include . . .
Axiom,
Schedule 40,
Poesy in the Pocket
Downhealer's
http://www.reverbnation.com/claudinemeinhardt?profile_view_source=header_icon_nav
---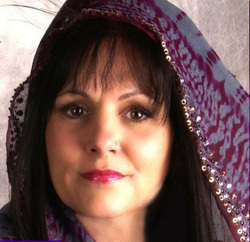 Anyah Dishon

. . . Is based in Austin and performs her music locally and internationally. Anyah creates an atmosphere of peace & empowerment. She started her music career in San Angelo, Texas and began singing gospel music on televised programs. After graduating, she moved to Austin, TX and was asked to join country western bands as lead vocalist and in the process met up with Lord Byron/Kade Iman from Trinidad. Lord Byron helped her re-write her folk songs into a reggae style! She performed with Lord Byron and his band, for a while until he moved. She entered singer/songwriter contests in Austin, and was able to sing at the "Armadillo Headquarters" at the singer/songwriter contests right before they closed down. Because of her job, she bounced back and forth from Austin to Houston and joined a Celtic Reggae and Rock Band called, "The Celtic Knot" as vocalist and keyboard player performing in the Renaissance/Celtic circuit of Houston.
She performs original music in auditoriums, cathedrals, art galleries, coffee houses, retreats, farmer's markets and multi-cultural events. Her music is used in a therapy called "Vibro-Acoustics" therapy assists the body, spirit and mind in a healing process.
Her latest music CD of nine CD's, "The Chariot", features King of Pearls-Oliver Rajamani and Sean Michael Orr of Austin, Texas. In her producer work, she has produced audio CD's for poets, for other musicians, yoga instructors, and instrumental/vocal and spoken meditation CD's. She appears and is assistant producer for the newest CD "Sacred Names Sacred Codes" production with Steven Halpern & Drs. Hurtak.
She is the creator of PEACE WAVES concerts a peace building venture by way of performance arts, cultural arts and education.
For more information about her music research at Gateway to the Heart Ministries!

---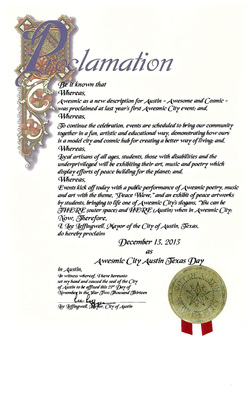 The Proclamation for Awesmic City's 2nd Annual
AWESMIC CITY AUSTIN TEXAS DAY!
PEACE WAVE at PEASE PARK!


Celebration of Peace and Prosperity
December 13, 2013
Friday 11 am - 6 pm



---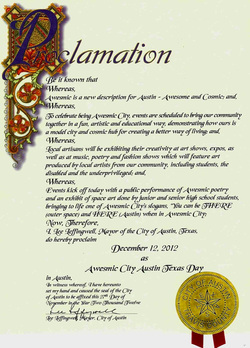 Awesmic City Austin Texas Day! 12.12.12!
December 12, 2012
Zilker Park - Day of Music, Poetry and Arts!

ANTHOLOGY AWESMIC CITY AUSTIN TEXAS 12.12.13
Poetry, Music and Art!

The New Description of Austin, Texas as
AWESMIC CITY!
Awesome and Cosmic events to support planetary prosperity and peace!

---