FEATURED MUSICIANS FROM AWESMIC CITY EXPO 2014 to be posted soon!
Palmer Events Center - Concerts Aug. 9 and Aug. 10

Our features for 1st Peace Wave Concert 2013
Dougherty Arts Center - August 10, 2013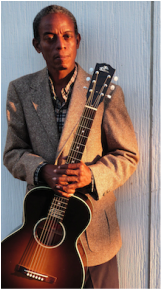 GARY GRAVES
GARY GRAVES
. . . The music of Austinite Gary Graves has been called "a slow burning
love letter to the human condition."
Having performed in Austin for more than ten years, Gary was open mic
host at Cactus Cafe, and has opened for artists such as Alejandro Escovedo,
Ruthie Foster, and Eliza Gilkyson. He performs at many venues in and around
Austin.
His music is deeply searching and introspective, as reflected in his new album
"Till the End of Time."
With his music, his special style of singing, and his rhythm, he has the
ability to bring out the pulse of power and desire; take us into to the depth
of loneliness; and cry out about the injustices in this world.
With Gary, the audience goes through a celestial, primal, and Spiritual experience.
More about Gary and his schedule...
---
PEGGY SUE WRIGHT!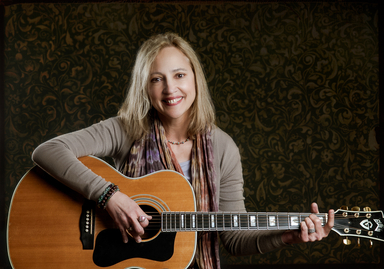 PEGGY WRIGHT
PEGGY WRIGHT
. . . Peggy is a local singer/songwriter who writes songs about matters of the heart and other issues important to her. Her debut CD, "Without You", is a soulful collection of original songs about love and loss.
She is an active member of the Austin Songwriters Group, an organization dedicated to the support and development of singer/songwriters. She performs in the Austin area at different venues and also special events.
Her music reaches into the hearts of the audience!
Check out her music
and her web site
---
CLAUDINE MEINHARDT!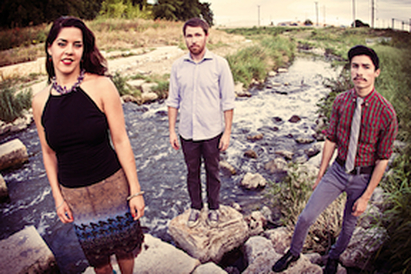 CLAUDINE MEINHARDT - JEREMY YOUNGBLOOD, ALEXANDER CAMARGO
CLAUDINE MEINHARDT AND the "DOWNHEALERS"
. . . Based in San Antonio, Texas, is a South Texas influenced indie-acoustic trio, consisting of Claudine Meinhardt on vocals and guitar, Jeremy Youngblood on guitar, mandolin and vocals and Alexander Camargo on drums.
Starting in 2012, Jeremy and Claudine have collaborated in their San Antonio rock roots back ground and evolved into a blue-grass influenced acoustic sound with both of them harmonizing together with each other's songs. Alexander Carmargo joined the group in 2013 to bring on a wonderful, playful sound of drums that has helped bring out a full sound.
Jeremy Youngblood has been in several bands around San Antonio, playing guitar and lead vocals in groups, that include, "This Breathing Hand", "Ruby Ridge", and "Black Friday." Influences include R.E.M., U2 and Radiohead. In 2005 he began learning to play the mandolin and became interested in music he grew up with which was bluegrass and put this into his rock songs he created years back.
Claudine Meinhardt from San Antonio has punk rock roots and played in several bands around San Antonio. She picked up electric guitar at an early age but put the instrument down to complete studies in college. Recently in 2011, she began writing and singing songs along with playing her acoustic guitar. She continues to be influenced from the local music scene around San Antonio and Austin.
Alexander Camargo is a young drummer from San Antonio with jazz influenced beats that keep evolving into more. Music was installed at an early age and the passion to play music continues to flow from within. Alexander plays with "Downhealer's" and also "What The City Bears" which are both based in San Antonio.
As the trio goes from their second year together, they are continuing to find their sound while they keep growing with the acoustic set.
For more information and about their music look on Reverberation!
---
ANYAH DISHON

ANYAH DISHON
ANYAH DISHON

. . . Is based in Austin and performs her music locally and internationally. Anyah creates an atmosphere of peace & empowerment. She started her music career in San Angelo, Texas and began singing gospel music on televised programs. After graduating, she moved to Austin, TX and was asked to join country western bands as lead vocalist and in the process met up with Lord Byron/Kade Iman from Trinidad. Lord Byron helped her re-write her folk songs into a reggae style! She performed with Lord Byron and his band, for a while until he moved. She entered singer/songwriter contests in Austin, and was able to sing at the "Armadillo Headquarters" at the singer/songwriter contests right before they closed down. Because of her job, she bounced back and forth from Austin to Houston and joined a Celtic Reggae and Rock Band called, "The Celtic Knot" as vocalist and keyboard player performing in the Renaissance/Celtic circuit of Houston. She began solo performances with a different ambient style music influenced by Peter Gabriel, Sinead O'Conner and other celtic ambient music performers. She started studying with indigenous elders from American Indian Hopi and then Cherokee and traveled to Peru and learned from the Incan tradition and then studied with a Nigerian priest and began writing more songs in the different sacred languages. She then acquired many ethnic drums and started learning how to drum for the healing shamanic journeying and has assisted the indigenous during ceremonies and played in drum circles in and around Austin.
Along with performing she enrolled in the Houston Art Institute for Music and Video Business and produced educational training video series for a company out of New York. That spawned her into becoming a TV producer, music producer, and she continues to be an international performer.
She performs original music in auditoriums, cathedrals, art galleries, coffee houses, retreats, farmer's markets and multi-cultural events. Her music is used in a therapy called "Vibro-Acoustics" where the music is conducted into frequency mats placed under the body on a flat surface, and where the frequencies from the music travel up and down the spinal column and body while listening on some great headphones! This Vibro-Acoustic therapy assists the body, spirit and mind in a healing process.
Her latest music CD of nine CD's, "The Chariot", features King of Pearls-Oliver Rajamani and Sean Michael Orr of Austin, Texas. In her producer work, she has produced audio CD's for poets, for other musicians, yoga instructors, and instrumental/vocal and spoken meditation CD's. She appears and is assistant producer for the newest CD "Sacred Names Sacred Codes" production with Steven Halpern & Drs. Hurtak.
She is the creator of PEACE WAVES concert a peace building venture by way of performance arts, cultural arts and education.
For more information about her music research for her ministries with Gateway to the Heart!

---
Dr. Ashin Ariyadhamma and peaceful meditation practice creating Peaceful Waves!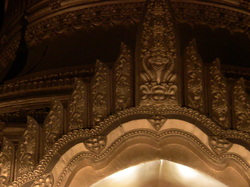 Sitagu Buddhist Vihara - Austin, Texas
Dr. Ashin Ariyadhamma

. . . Comes to us from Myanmar, where he was born, studied at Regional College and Rangoon University and conferred with B.Sc Degree from Yangon Arts and Science University.
He has been an ordained monk for 27 years, studied his Monastic Education for over 9 years and taught at Shwe Hin Tha monastery. Later he passed the Higher Pali and Nikaya examinations and practiced Vipassana meditation at various centers and taught the guidelines of meditation.
He received his M.A degree in Philosophy and Diploma in Buddhism from Bombay University. He was a lecturer at Sitagu International Buddhist Academy, SIBA. and later assigned the position of Assistant Rector of SIBA. He moved to the U.S. to The Dhammaloka Buddhist Vihara in Florida and later to Austin and completed his doctoral thesis titled "A Comparative Study of Meditation in Patanjali's Yoga Sutra and Buddhist Text" for his Ph.D degree.
We are privileged that he has resided at the Sitagu Buddhist Vihara, in Austin Texas serving SÈsana's duties. We are honored to have Dr. Ashin Ariyadhamma in our Peace Wave Concert!

---